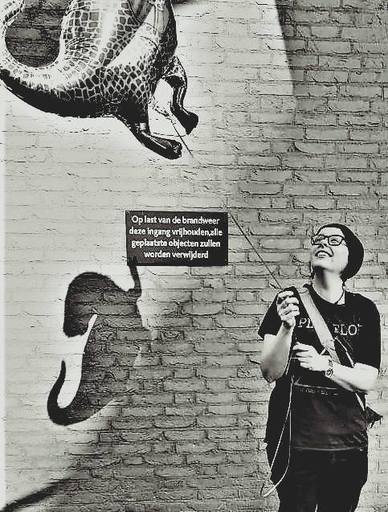 Marjan Buning is multi-disciplinair kunstenaar. Naast fotografie en film bouwt zij grote installaties o.a. bestaande uit tekeningen foto's en gedichten, neemt ze cassette tapes op bouwt ze ruimteschepen en maakt en geeft zij de foto strip: Alien roadtrip uit naast eigen dichtbundels en graphic novels. Marjan Buning studeerde af in 2006 als fotografisch vormgever.aan de fotovakschool in Apeldoorn. Een rode draad binnen het werk van Marjan is het gebruik maken van ervaringen uit haar leven en daarvan werk te maken dat universeel interpretabel is. Marjan exposeert regelmatig in binnen en buitenland.
Marjan Buning makes (large scale) installations containing drawings, photography and poetry.
She works on different projects at the same time such as: The Alien roadtrip photocomic series.
marjanbuning.com website serves as a visual diary of observations travels and adventures in every day life.
This is a selection of her art/work activity over the last years
EXHIBITIONS (SELECTION)
2019 BEVINGS PICTURA JANUARY 27 - MARCH 10 GRONINGEN
2018/2019 WINTERSALON Y2 DECEMBER 23 - JANUARY 5 GRONINGEN
2018 NOVEMBER 4 GRONINGEN OPEN ATELIERS
2018 OCTOBER 13-21 GRONINGEN RESORT SPREADZINEFEST 2018
2018 MAY5-6 MIAT GENT LES VOIZINES 2018
2017 JULY 14- AUGUST 27 THINGS I HAVE LEARNED GROUP SHOW SMAHK
2016 GROUP SHOW JULY 7 - AUGUST Lomography Gallery Store New York City
2016 GROUP SHOW JULY 15 - 31 AUGUST Gallery ArtAttack Rotterdam
2016 GROUP SHOW JUNE 5 - JUNE 26 SMAHK ASSEN
2016 LIEFDE EN LUST GROUP SHOW 31 JANUARI -14 FEBRUARI 2016 PICTURA GRONINGEN
2015 11 JULY TILL 20 SEPTEMBER SUMMER EXHIBITION GROUP SHOW GEMEENTE MUSEUM DEN HAAG
2015 5X5 SMALL ART EXPO GROUP SHOW PICTURA GRONINGEN 6 SEPTEMBER- TILL 18 OCTOBER
2014 JUNE 9 TILL JUNE 20 MINI DRAWING EXPO GROUP SHOW GYM OOSTERSTRAAT 13 GRONINGEN
2014 APRIL 5 TILL MAY 10 INSIDE OUTSIDE SOLO SHOW BASEMENT BK050 ART CENTER GRONINGEN
2013 april t/m 8 juli solo foto expositie Beatrixoord Haren
2013 11 juli t/m september expositie fotografie, schilderijen en tekeningen Refaja Stadskanaal
2013 14 T/M 17 NOVEMBER PHOTO OFF PARIS
2013 NOVEMBER LOMOGRAPHY GALLERY STORE TOKYO JAPAN
2012 september/oktober solo expositie lichtsculpturen Beatrixoord Haren
2012 22 september t/m 22 oktober foto expositie eetcafe KULT Groningen
2012 27 juni t/m 22 juli A taste exhibition groeps expositie Triennale di Milano Design museum
2011 POLAROIDS AND POEMS performance expositie tijdens KUNSTSCHOUW kunstfestival zeeland
2011 ART GARAGE Groningen
2010 diana world tour Lomography galery store Berlijn
2010 diana world tour Lomography galery store LosAngeles
2010 LEEF! solo expositie Sociale verzekeringsbank Groningen lichtsculpturen / fotografie
2009 The future is .. Lomography galery store New york
2006 CODA APELDOORN 'Begin' Eindexamententoonstelling Fotografische Vormgeving
2006 NAARDEN UP 'Unexpected Photography' eindexamenwerk Fotografische Vormgeving
Publicaties Vrij werk
2004 '4 the View' portfolio publicatie (1e jaargang nr.2) 2005 ' '4 the View' (maart)
2009 Death & Taxes The future is October number
2012 Lost&Found magazine May isue
2012 Marjan's alledaagse avonturen artikel lomography nederland online magazine
2013 cover photo E.P. Kings of town Pelvicfins http://www.pelvicfins.nl/
2013 OCTOBER 2013 SCENES FROM THE ALIEN ROADTRIP THE MOVIE ARE USED IN PROMOTION FILM LOMOKINO https://vimeo.com/77855555
21-8-2015 publication photocomic Alien roadtrip:Revenge of the sheep by CANADIAN ONLINE ART MAGAZINE BOHEMIANIZM.http://www.bohemianizm.com/art-from-marjan-buning/
2015 A photograph (person on a dam) by Marjan Buning is used for the booklet that comes with the debut album: Heile welt by Vauu
Interviews
30 september 2012 interview lomography magazine (international) http://www.lomography.com/magazine/lomoamigos/2012/09/29/plasticfantastic-lomokino-and-community-lomoamigo-marjanbuning
14 maart 2010 interview VERSPERS http://www.verspers.nl/index.php?categorie=10&soort=foto&id=274
Publicaties in opdracht
2005' Discured Pain' Vormgeving en Fotografie voor -CD 'Without the Past' 2005
prices photography (selection)
2015 LIFE Anton Corbijn competition secondplace http://www.lomography.com/magazine/316215-lomography-x-life-rumble-winners-announced
2015 Heile welt competition winner http://www.lomography.de/magazine/313277-zeig-uns-deine-heile-welt-die-gewinner
2009 Death & taxes competition winner http://www.lomography.com/magazine/19584-lomography-and-death-taxes-competition-winner-announcement
2010 Diana vignettes Berlin competition winner
http://www.lomography.com/magazine/34403-diana-vignettes-rumble-berlin-winner-announcement
2011 Patti Smith outside society competition winner
http://www.lomography.com/magazine/103826-lomography-x-patti-smith-outside-society-rumble-winners-announced
2011 White out Black friday competition winner
http://www.lomography.com/magazine/58434-white-out-black-friday-rumble-at-lomography-gallery-store-la-winners-announced
2012 storyboard competition winner
http://www.lomography.com/magazine/186659-create-your-own-lomokino-storyboard-rumble-winners-announcement
2013 Troma Entertainment: Gruesome Photo Gauntlet competition winner
http://www.lomography.com/magazine/233828-lomography-x-troma-entertainment-gruesome-photo-gauntlet-winners-announcement
2014 To the moon and back competition winner
http://www.lomography.com/magazine/284612-to-the-moon-and-back-rumble-winners-announcement